Best Baja California Surf Spots
Surfing in Baja California beaches around  are very popular due they are some of the best and less crowded locations in Baja.
The beaches of Ensenada are great for learning, to spend a weekend close to the border, improving your surfing skills or learning some new tricks.
Surfing is a very popular activity, but still beaches remain empty, you won't have to compete to catch a wave
Best Baja California Surf spots close to Ensenada

You can catch good size waves from 5 to 9 feet, depending on the area.
If you are inexperienced or beginner and you are starting to surf.
There is a beach named Playa Hermosa, just by the south downtown.
It is recommended for learning or improving your skills.
Then there is just up north of town the Tres Emed Beach
Close to the Saulzal Cliffs.
This location have become very popular for tournaments
Due the quality of their waves and the great views from
The promontory of the coast.
There are some close surfing beaches like San Miguel, Las Gaviotas,
La Fonda, Baja Malibu, Sal si Puedes, El Pigo and Stacks.
Those are more popular and more visited by surfers and Varies it's difficulty.
There is a place that is worldwide known and that is The Todos Santos Bay that bears the name of a World Surfing Reserve.
There are some giant waves forming in Todos Santos Island.
There is always a good time to check the waves and surf.
Come along with your family and friends in your caravan rv or stay in a nice accommodation, then check what all the great food and drinks are available  so you can complete your surfing vacations in this destination.
Surfing Baja California Sur
So come and see the surfing beaches in Baja California, you will have a great time south of the border in a less crowded surfing paradise, a place just for you and your family and friends.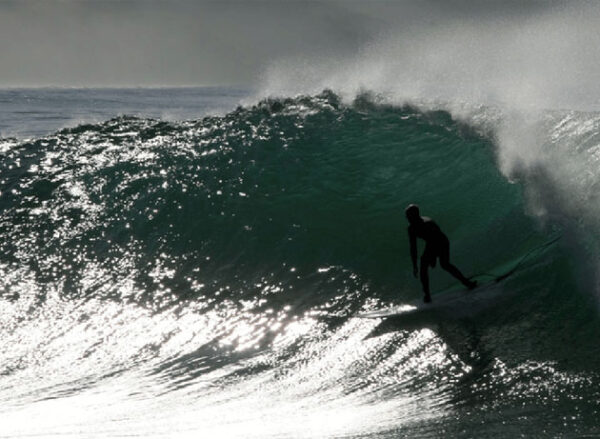 Best Baja Surf Spots
Baja Malibu
Located just five miles south of the border, with thick barrel and breaks along scattered beach break and swell catching from any direction. Making this one of the best baja surf spots when there is little or no swell running. The best direction swell is northwest and best wind direction northeast or east.
Baja Malibu surf location can produce extremely large waves if there is any considerable swell running.
The best time of year to surf this common surfing spot in Northern Baja Mexico is winter, however this is a fun beach break that tends to be consistent year-round.
Rosarito Beach
30 minutes south of the border you will find the popular and touristy Rosarito Beach. This surf location is best in summer and fall however it still produces good waves to surf all year round. The beach and breaks at Rosarito Beach are numerous and varied.
Featuring a long stretch of coast that is most prominently beach break.
The biggest waves breaking at the south end of the bay. Rosarito Beach is a good surf spot as there is plenty of space for you to surf without it being heavily crowded with surfers.
Popotila
Another great surfing break in Baja Mexico is Popotila. This Baja Mexico surf spot tends to be less consistent at producing good waves.
Popotila is best when a big northwesterly swings in, and it will then produce some good waves to surf. Poptila is located further south of Rosarito Beach.
Calafia
Calafia is the best break to surf when there is south in the water as there is guaranteed to be some good waves. This Baja Mexico surf spot at low tide can get spiky waves, unless there is enough swell and water moving around.
Located six miles south of Rosarito Beach, Califia's best swell direction is southwest, west or a large northwest swell. Calafia Produces the best waves at high tide with wind direction moving east to north easterly.
While Calafia break is still consistent all year for surfing the break at Calafia is at it's prime in summer and fall. When there is a good swell Calafia will get busy with surfers.
K-38
K-38 can sometimes be the most crowded wave, however you can still catch it sometimes when it is not busy.
This break faces due south but picks up all wind directions, producing ideal swell. You can surf this break in any direction.
K-38 likes a mid to low tide and breaks over a cobblestone riverbed, with bigger rocks at the back.
Las Gaviotas
One of the best surfing locations in Northern Baja Mexico, located in a gated community in Las Gaviotas. This surf spot produces a perfect wave.
San Miguel
Another of the most popular Baja Surf Spots, San Miguel produces a very fast right hand point break and is consistently one of the best waves in northern Baja, breaking over a reef. San Miguel is fast, powerful and hollow.
Because San Miguel is one of the best surfing breaks in Baja Mexico it does tend to get crowded with surfers.
Source:bajasurfmexico.com